Centralize Sales Content Management and Distribution with Ease
One platform to manage, distribute and analyze your sales content. The sales app's user interface can be fully customized to reflect your brand guidelines, and it works with all your devices–even offline!
Cut Sales and Marketing Back-Office Tasks
In sales, people spend up to 61% of their time on back office tasks. With Showell, you improve your team productivity, enable cross-team collaboration, and train your internal and external team members to perform better.
Get Data-Driven Insights to Understand What Drives Revenue Growth
Did you know that up to 90% of marketing content is never used by sales? Do you know how the rest of 10% of your content is perceived by your buyers? Stop guessing and get data-driven insights about how your sales content actually works.
Connect Showell with Other Tools
Showell fits into your existing marketing and sales tech stack and workflows.
Features That Our Customers Value
Find, Present & Share content using a tablet, mobile phone, laptop, or web browser. Even offline.
Manage, organize, and distribute content with Showell's easy, but powerful content management.
PPT, Word, Excel, PDFs, images, videos, forms, 3D, augmented reality... anything you need.
Locate the right presentation, video, or data sheet with Showell's smart search and filter options.
Users, Groups & Permissions
Manage access to content and user/group permissions effortlessly for both internal and external teams.
Notify selected users or groups when content is updated or new content is added.
Get a Branded app that creates a professional and seamless experience for users and customers.
Personalized Presentations
Create, show, and share a tailored presentation in minutes by picking the right pages or slides
Share content via Showell's branded digital sales rooms. Track how content is viewed and opened.
Display 3D models and augmented reality content instantly, creating an immersive experience.
Empower sellers with smart tools like product configurators, price calculators, and data capture forms.
Showell provides all the features that successful sales teams need to engage and impress buyers.
Enterprise-Level Security
Your data is stored in an industry-leading ISO27001-certified, secure and lightning-fast cloud.
Showell is fully compliant with both GDPR (EU) and CCPA (California Privacy Act).
Showell provides multi-factor authentication and single-sign-on capability for access management.
You can accurately control who can access, present, share and download content.
Pricing
Pay by the month or the year, and cancel at any time.
Experience the Power of Sales Enablement
Book a 30-minute Showell Demo
Your time is valuable so we won't waste it on mumbo jumbo. In the demo, you will learn how we can help you and your team to make more sales.

Our Specialist will go through:
How Showell fits with your requirements and need
Platform features and functionality that are relevant to you
Best practices and what to consider
Any other questions you may have
This is your chance to get ahead of your competitors in 30 minutes (unless they are our customers already).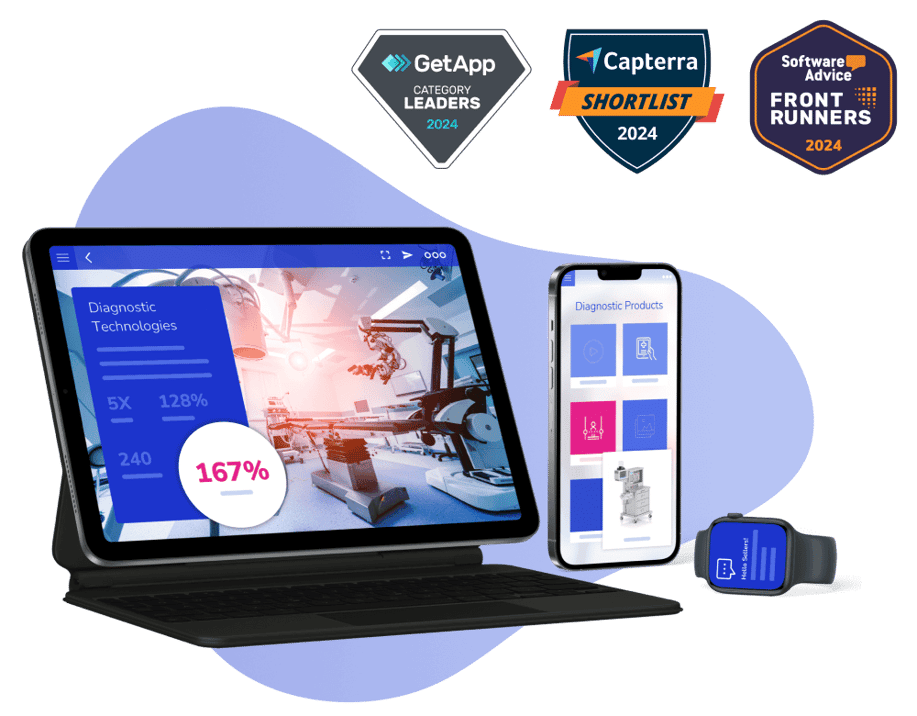 Showell is a great platform to host and share all of our materials. It gives me the ability to communicate quickly and effectively with our global partners.
Head of global Product Management